Pickup trucks are almost perfectly designed for all kinds of work. From hauling building materials to towing boats to acting as your adventure rig on the weekends, they can really do it all.
One area that truck owners often struggle with is how to utilize all that bed space. While perfect for carrying around big, bulky loads, smaller items tend to shift around or rattle, potentially damaging them, and an open bed is an invitation for casual theft, as well as exposed to all kinds of weather. You also want to protect the factory finish that your truck bed came with – this preserves your resale value. 
There are a wide range of creative truck bed storage solutions out there on the market today, designed specifically for the ways you use your truck most. Autoanything carries many of these – from drawer systems to bed racks to traditional tool boxes. 
We'll take a quick tour of some of the more popular options below, but first a quick discussion about some variables you should take into account when considering a truck bed storage solution.
Is Truck Bed Storage Right For Me?
This is the core question you will need to consider in evaluating any of these storage solutions. Many of the options, such as bed sliders and drawers, are more or less permanent in their installation. They can be removed after they are bolted up to your pickup, but it's an involved process, and some require drilling holes in your bed for the mounting points.
Some truck bed storage, like ladder racks (or bed racks), fabric bed canopies, and certain kinds of tool boxes can limit the storage height of your bed. And, of course, all of the popular storage options will take up space in the bed in one way or another. 
If you use your pickup regularly to haul really large loads – loads that take up all of or most of the entire bed – you'll need to think carefully about how much of that room you want to sacrifice to a dedicated storage system. Many storage systems also increase the lift-over height of your bed as well. 
However, If you carry smaller items, use your truck to transport tools to job sites, or frequently escape on wilderness adventures on the weekends, some of these following options might just be the ticket to keeping your gear in line. 
Truck Bed Drawer Systems and Sliders
Some of the most versatile storage options for pickups right now are dedicated sliders and drawer systems. 
Drawers offer several key benefits. Most are designed specifically for your individual pickup, so you know they will fit perfectly. They are roomy, reaching the length of the bed, and made of robust materials. Lockable and weather resistant, drawers protect your gear and tools from prying eyes and the elements. With all kinds of inserts available, that gear stays organized all the time. Many can even be outfitted with gourmet-level camp kitchens! Decked builds drawer systems for most popular platforms.
Of course, drawers will occupy pretty much all of the space in your pickup bed, and you're probably not going to be dumping two tons of pea gravel on top of them any time soon. Also in the movable storage category are bed sliders. Bed-width platforms that slide out the back of the pickup – these sliders make retrieving items stored near the front of the bed a snap. You can load loose items on them with tie downs, or use modular attachments and bins to create custom movable storage solutions. Bedslide's Bed Bins are a great example.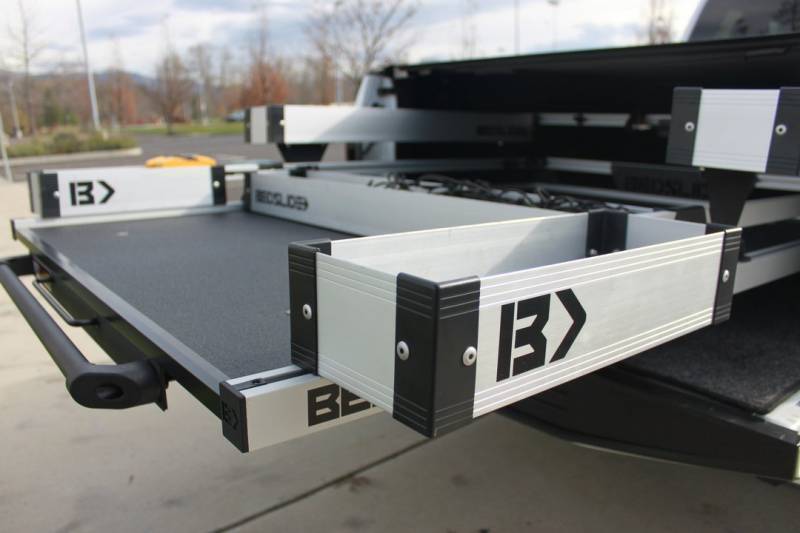 In either case, both drawers and sliders require some commitment. They need to be mounted semi-permanently to your truck, but they should also last the lifetime of your pickup.
Truck Bed Tool Boxes
The truck bed tool box has been around almost as long as the pickup truck itself. We're familiar with the traditional diamond plate "Crossover" style tool box that mounts to the bed rails behind the cab, but there are some other varieties that will fill other storage niches as well.
Low profile truck bed boxes, like BAK's BAKBox2 tool box, are designed to fit flush underneath your tonneau cover. And side-mount boxes maximize tool storage capacity while keeping the impact on your bed space to a minimum. Side mounts are particularly convenient for accessing gear and tools quickly and efficiently.
There are also contractor-grade boxes that come in a wide variety of configurations. They are designed to withstand an atomic bomb blast and keep your expensive tools and materials on lockdown. Delta's Jobsite line of tool chests are built so tough you'll never have to buy another one, and Brute offers a clever v-shaped storage solution that fits like a glove around your fifth-wheel hitch. 
Ladder Racks and Bed Racks
Not all bed storage is enclosed storage. Sometimes you need a versatile solution to securely carry longer things, like ladders and lumber. Sports equipment like mountain bikes and watercraft are also prime candidates for riding outside the bed of your pickup. Enter the ladder rack, or bed rack. Bed racks lift long items up and out of the bed (so they're not sticking awkwardly out the back of your truck bed), and provide sturdy tie down points for lashing. 
CBI makes a highly adaptable bed rack system that is tailor made for your pickup model, and comes with a huge array of available attachments for loading up everything from fuel and water cans, to shovels, axes, traction boards, and roof tents. While limiting some load height, truck bed tracks do preserve the space of the storage bed itself. A drawer system is a great complement to a bed rack for a multifaceted storage system. 
Get Your Truck Organized!
No matter how you approach your storage solution, you'll get the most out of your pickup's capabilities if you plan it out with your primary needs in mind. Questions about truck bed storage? Chat with one of our knowledgeable Autoanything Gearheads today, or leave a question down in the comments! We'd love to hear from you.